San Diego Dental bonding is one of the most non-invasive smile-enhancement treatments for improving your smile available today. Your San Diego Cosmetic Dentist, Dr. Eshom is a dental bonding expert.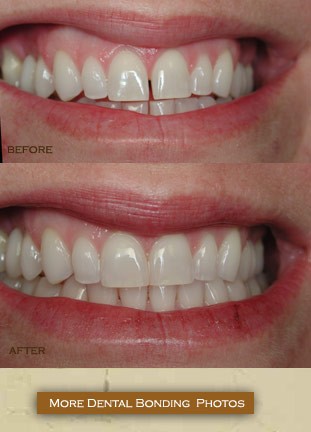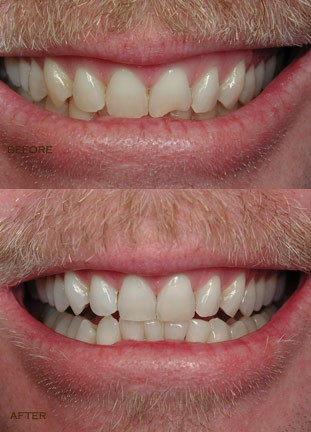 What is dental bonding?
Dental bonding is an ideal way to correct minor cosmetic concerns on your visible teeth. Using the same hard, durable composite resin used in fillings, a skilled dentist can sculpt a brand new surface onto your natural teeth that is imperceptible and unobtrusive. Unlike porcelain veneers, another cosmetic treatment that adheres a new surface to your enamel, dental bonding can be performed quickly in one office visit, and at a much more affordable cost.
Would you like to take advantage of this versatile cosmetic treatment? Contact our San Diego CA dental practice today at 858-455-9151 to learn more!
Common Corrections with San Diego Dental Bonding
Chipped Tooth Dental Bonding
Broken Teeth Dental Bonding
Closing Gaps Dental Bonding
Covering Discoloration Dental Bonding
Lengthening Teeth Dental Bonding
Often when one or two teeth are out of alignment, just adding tooth colored material can make a difference by changing the visible appearance of the teeth. This treatment applies to closing gaps between teeth, rotating a tooth that sticks out, or just correcting a discolored spot in the middle of a front tooth. When "bonding" your tooth, Your San Diego dentist, Dr. Eshom applies a strong tooth colored plastic material to your tooth/teeth and hardens it with a high-tech light called Plasma Arc. Your San Diego Cosmetic Dentist, Dr. Eshom addresses a variety of his patients' smile concerns this way.
Dr. Eshom says:
"With my philosophy of saving as much tooth structure as possible, San Diego dental bonding is my favorite way to beautify a smile. Bonding a tooth to blend invisibly takes an artist's mentality, so it fits right in with my passion for artistic and clinical excellence."
How does San Diego Dental Bonding work?
STEP 1: Prepping the Tooth
Before dental bonding, your tooth (or teeth) needs to be prepared. This involves gently etching the outer layer of your enamel to give the composite material a rougher surface to bond to. After the etching, a primer is applied before the composite resin is applied.
STEP 2: Application
The dental bonding material is applied to your teeth in three layers, to create a natural looking surface for your bonded teeth. Dr. Eshom will use one layer to match the underlying root color, one layer for the enamel, and a third to match the translucency at the edge. Your San Diego Cosmetic Dentist, Dr. Eshom takes special care to match the color and translucency of your other teeth for the most natural- looking result.
STEP 3: Sculpting and Hardening
In the hands of an experienced cosmetic dentist such as Dr. Eshom, composite material are carefully sculpted to correct any flaws and create an aesthetic balance with the rest of your smile. After the desired result is achieved, a high-intensity light is used to harden the material, permanently bonding it to your teeth.
STEP 4: Smoothing and Polishing
After your bonded corrections are hardened, Dr. Eshom will smooth and polish the material to ensure it looks just right, and that the edges fit together perfectly when you speak, smile and bite with your teeth.
If you are looking for a faster, lower-cost alternative to porcelain veneers, dental bonding may be the right treatment option for you! Call our San Diego dental practice today at 858-455-9151 to set up a consultation.
Professional Pointer
Dr. Eshom warns, "Shortening your teeth can add years to your smile. If you have a small chip and your dentist offers to smooth it out by filing, just say no! Instead, opt for dental bonding to restore the tooth's natural appearance and youthful length. Dr. Eshom, a local San Diego Dental Bonding expert can answer all your questions.