Are you looking for a less-expensive, non-permanent solution to one or two problem teeth? Dental bonding may be the solution to your cosmetic flaws.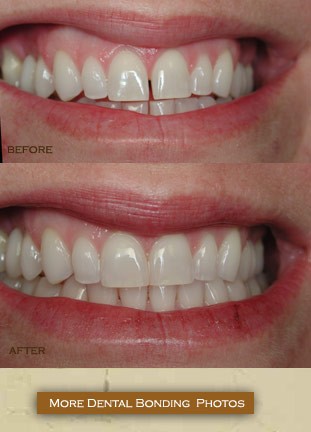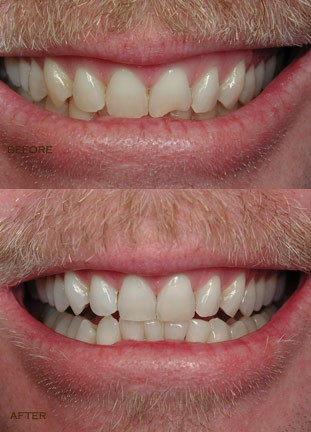 What is dental bonding?
Dental bonding is an ideal way to correct minor cosmetic concerns on your visible teeth. Using the same hard, durable composite resin used in fillings, a skilled dentist can sculpt a brand new surface onto your natural teeth that is imperceptible and unobtrusive. Unlike porcelain veneers, another cosmetic treatment that adheres a new surface to your enamel, dental bonding can be performed quickly in one office visit, and at a much more affordable cost.
Would you like to take advantage of this versatile cosmetic treatment? Contact our San Diego CA dental practice today at (858) 455-9151 to learn more!
Common Corrections with San Diego Dental Bonding
Dental bonding is often chosen by patients who have:
A tooth with an intrinsic stain that doesn't respond to whitening
A chipped tooth
Gaps between teeth
Eroded enamel at the edge of a tooth
A tooth that stands out from the others
Receded gum tissue.
Often when one or two teeth are out of alignment, just adding tooth colored material can make a difference by changing the visible appearance of the teeth. This treatment applies to closing gaps between teeth, rotating a tooth that sticks out, or just correcting a discolored spot in the middle of a front tooth. When bonding your tooth, San Diego dentist, Dr. Eshom applies a strong tooth colored plastic material to your tooth/teeth and hardens it with a high-tech light called Plasma Arc. Dr. Eshom addresses a variety of his patients' smile concerns this way.
Dr. Eshom says:
"With my philosophy of saving as much tooth structure as possible, San Diego dental bonding is my favorite way to beautify a smile. Bonding a tooth to blend invisibly takes an artist's mentality, so it fits right in with my passion for artistic and clinical excellence."
Why Do Patients Choose Bonding?
Bonding has a shorter lifespan that veneers, but it can be the preferred choice for a number of reasons. For one, bonding is less expensive and it can be accomplished much faster (just one office visit). However, it is also a non-permanent alteration of the teeth, which can be reversed. Once a patient gets veneers, he or she cannot go back to not having veneers because a small amount of tooth enamel must be resurfaced. Bonding, on the other hand, is fully reversible and does not change your natural teeth.
Sometimes, patients choose bonding as a temporary fix, while they are making up their mind about whether to invest in veneers. Making the switch to veneers is easy to accomplish, so there's no harm in trying one treatment while you make a bigger decision about non-reversible porcelain veneers.
If you are in a situation like this—you are thinking about veneers, but aren't quite ready to take the plunge—Dr. Eshom can provide bonding or BioClear to correct your problem teeth in the meantime. Learn more about BioClear on our website. This treatment is fully reversible, yet provides results that are, in some cases, every bit as attractive and long-lasting as veneers.
How does San Diego Dental Bonding work?
When you visit Dr. David Eshom for a free cosmetic consultation, he will listen to your concerns and discuss your many options or correcting cosmetic flaws. If you decide that dental bonding is the right choice, he will examine to tooth/teeth to make sure they are in a good state of oral health. If everything looks good to go, he can perform cosmetic dental bonding in the same office visit.
First, Dr. Eshom sculpts the dental composite over the affected tooth, until an attractive, natural-looking surface is created. When everything looks just right, he will use a special curing light to permanently harden and bond the material to your tooth. After the material is stabilized, he will shape, buff and polish it until it looks perfect in your smile.
Your newly bonded tooth will cover and correct the stain, chip, or damage to your tooth. With proper care, your bonding should last up to ten years. However, this means you need to take care to avoid using it to chew on ice, hard candy, or hard non-food items (e.g. pens) so it does not become cracked or dislodged.
The process of bonding involves four specific steps:
STEP 1: Prepping the Tooth
Before dental bonding, your tooth (or teeth) needs to be prepared. This involves gently etching the outer layer of your enamel to give the composite material a rougher surface to bond to. After the etching, a primer is applied before the composite resin is applied.
STEP 2: Application
The dental bonding material is applied to your teeth in three layers, to create a natural looking surface for your bonded teeth. Dr. Eshom will use one layer to match the underlying root color, one layer for the enamel, and a third to match the translucency at the edge. Your San Diego Cosmetic Dentist, Dr. Eshom takes special care to match the color and translucency of your other teeth for the most natural- looking result.
STEP 3: Sculpting and Hardening
In the hands of an experienced cosmetic dentist such as Dr. Eshom, composite material are carefully sculpted to correct any flaws and create an aesthetic balance with the rest of your smile. After the desired result is achieved, a high-intensity light is used to harden the material, permanently bonding it to your teeth.
STEP 4: Smoothing and Polishing
After your bonded corrections are hardened, Dr. Eshom will smooth and polish the material to ensure it looks just right, and that the edges fit together perfectly when you speak, smile and bite with your teeth.
Contact San Diego Cosmetic Dentist Dr. David Eshom
If you have cosmetic concerns you wish to correct, Dr. Eshom is your man! He has devoted years of focus and continuing education to master all the latest techniques available in cosmetic dentistry. You won't find a cosmetic dentist with a bigger toolbox or as many treatment options—and your first consultation is always free!
If you are looking for a faster, lower-cost alternative to porcelain veneers, dental bonding may be the right treatment option for you! Call our San Diego dental practice today at (858) 455-9151 to set up a consultation.
Professional Pointer
Dr. Eshom warns, "Shortening your teeth can add years to your smile. If you have a small chip and your dentist offers to smooth it out by filing, just say no! Instead, opt for dental bonding to restore the tooth's natural appearance and youthful length. Dr. Eshom, a local San Diego Dental Bonding expert can answer all your questions.